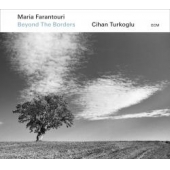 Farantouri Maria / Turkoglu Cihan
Beyond The Borders
Label: Ecm
Genre: World Music
Maria Farantouri will be presenting the original work that was written for her voice by composer Cihan Türkoğlu, with lyrics by Agathi Dimitrouka.
During this musical journey, Eastern music traditions with Western undertones such as Medieval, Minimal, Classical and Jazz, will intertwine.
On this musical encounter, internationally acclaimed soloists such as Anja Lechner violoncello, Meri Vardanyan qanon, Christos Barbas ney, İzzet Kızıl percussion, and the composer of the project Cihan Türkoğlu vocal, saz and kopuz, will collaborate.