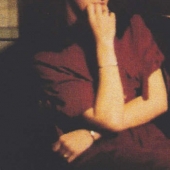 Value Void
Sentimental
Label: Tough Love
Genre: Rock / Pop
Availability
LP + MP3 COUPON €19.99

In Stock
London trio Value Void are an offbeat proposition. A sui generis bolt from nowhere, their debut album Sentimental (due out in October on Tough Love) is a collection of luxuriantly deep, shag pile-warm, analogue proto-punk. Paz Maddio and Marta Zabala grew up with each other in Azul, a small town south of Buenos Aires, where the seeds of this project were sown. They collaborate in the same way that Elton John and Bernie Taupin wrote songs, with Marta penning lyrics then taking them to Paz to spin them in to music.

Marta first came to London on tour with the super-slanted art punks Los Cripis, where she met Luke Tristram (of Cop, Score and Owner) who released their record via his Unwork label. Paz followed to join them and scrape rent from the city's bars and cafes.

By early 2017 the three of them were holed up in practice rooms, Luke adding Evens-esque basslines that laid concrete to their minimalist guitar-lead pop songs. Originally as WVS, they started playing shows with bands that had once orbited the tiny Power Lunches venue in Hackney and, since its death, were now to be found on bills at DIY Space, New River Studios and other dusty successors of its autonomous, cheap drink, creative-friendly spirit. In common with bands like Shopping, rudimentary surroundings and resources fed into nonetheless ambitious, hooky work. Songs such as "Teen For Him," a self-effacing lark importing strains of Leslie Gore and the Velvets; the minimal, Guided by Voices-reminiscent chug of "Bariloche" and "Cupids Bow," an up tempo, Breeders-esque standout, were lynch pins of a pummeling, inspired set.

In April of that year, they recorded with Euan Hinshelwood of Young Husband at the studio TVT, in an overlooked corner the other side of Blackheath, tucked under giant knots of flyover on the way to Charlton in South East London.

The intention was casual but the results, seven dazzlingly assured songs nailed in a couple of days, sucked attention from several quarters as they skipped between hard drives. They secured a tour with Frankie Cosmos and signed to London label Tough Love, who released the single "Back In The Day" in May 2018.

Upon deciding to flesh the songs out for a full length, they returned to TVT studios with Euan in April this year, tweaking the mix and laying down two new songs: "Mind," a down tempo lullaby/lament in which the band track into the territory of early St. Vincent, Grouper or Julianna Barwick, supported by a raw dirge that blossoms in feedback, and "The Deluge," which is also reflective but structured by a roaming curiosity and big chorus seeking road movie oblivion.

The album is instantly affecting, with an ease and clarity that suits the elegance of the lyrics: coded love songs and cool reflections on life which are all the more vulnerable and touching sung in Paz Maddio's lilting, ultrachromatic voice - a ceramic-sharp diagonal transatlantic on a pure open tone, with subtle waves of vibrato at its top end. It's a particular heart breaker on tracks such as "Babeland" and "Dead Ladies Lament".

Restricted to a palette of drums, bass, guitar and double tracked vocals caught on 2" tape, coloured here and there with a daub of feedback or a passage of ground-shifting tape delay, this is the sort of thing that gets called "stripped back". It speaks to the powerful understatement at the heart of their style, but it fails to capture the crafty, delicate, taught and spaced-out ride Value Void subject you to: a species of NY proto-punk and Californian post-hardcore born miraculously from London's piss swilling street level like religious icons in toast.
Limited edition pale green vinyl.