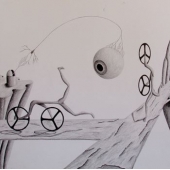 Imajinary Friends
Imajinary Friends
Label: Sound Effect
Genre: Rock / Pop
Availability
Other Formats
After over a 15 year hiatus, the Imajinary Friends are back with a new collection of sizzling electric dreams from space that pulsate with a strange, sexy, far out groove (i.e. L'Outsider, with guest vocals and lyrics by Deborrah Morgan aka Moogy.) On their eponymously self-titled 3rd LP, the Imajinary Friends tweak the frequencies and really fry all the instrumentation that is both dizzying and danceable (i.e. The Dark Sparkle or Space Trash.) The Imajinary Friends continue to experiment with sounds and rhythm on tracks like 101 Kazoos and Frangipani. This record brings the rhythms of the 70's Krautrock scene with the dark guitars of UK Post-Punk paired with buried vocals and slurred sounds of the 90's shoegaze movement.


The Imajinary Friends are a somewhat mysterious collective. Ever changing and evolving. The core 3 are Tim Digulla (one half of Lounge/Exotica/Electronica duo Tipsy,) Ricky Maymi (current guiterrorist & founding member of The Brian Jonestown Massacre; he also played with Mellow Drunk, Spectrum, The Wild Swans and Steve Kilbey, among many others) and Travis Threlkel (also a founding member of BJM, now, founder & creative director at Obscura Digital). For these recordings, the Imajinary Friends enlisted the following to sing vocals on several tracks: The aforementioned, Australian/French-Belgian Singer-songwriter Moogy (L'Outsider); Stephen Lawrie of The Telescopes (Hate This Party); and Marleen Nilsson of Death And Vanilla (Baby's Bathwater)


"San Francisco's The Imajinary Friends, mercurial pranksters of soundscape and pop, continue to turn in the unexpected with their unique brand of original and uncompromising music."(Pete Kember aka Sonic Boom)


"Pretty way out stuff that floats around enough while being sort of hypnotic drawing the listener in." (Flipside)

Colored vinyl.