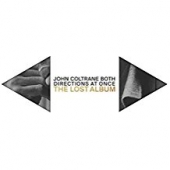 Coltrane John
Both Directions At Once: The Lost Album
Label: Impulse
Genre: Jazz / Avant Garde
Availability
CD x2 Digi / Cardboard €18.99

Dispatched within 5-10 working days
Other Formats
THE 'HOLY GRAIL' OF JAZZ RECORDINGS
Unknown until 2004 and unheard until now, these recordings by the John Coltrane Quartet are, as Sonny Rollins says in the liner notes, "like finding a new room
in the Great Pyramid."
With the discovery of the ¼"reference tapes that Coltrane took home with him after the recording session - a session that was completely unknown and for which
master tapes don't exist – an important chapter in the evolution of Coltrane's music can now be heard for the first time.
Featuring the Classic Quartet – John Coltrane, McCoy Tyner, Jimmy Garrison and Elvin Jones – and recorded at the end of a two-week run at Birdland, the music
on this album represents one of the most influential groups in music history both performing in a musical style it had perfected and reaching in new, exploratory
directions that were to affect the trajectory of jazz from that point forward.

Deluxe version, includes every take from the session.