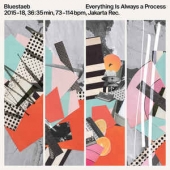 Bluestaeb
Everything Is Always A Process
Label: Jakarta Records
Genre: Freestyle / Nu Jazz / Funk / Afro
Availability
LP €18.99

Dispatched within 5-10 working days
Bluestaeb's evolution from a beatmaker to a producer is his sophmore album "Everything is Always a Process".

He is one of the key figures of a new generation of up and coming HipHop beatmakers, who have emancipated from genre thinking and instead merge old school aesthetics with a new school attitude and organic instrumentation.

Everything Is Always A Process re-iterates Bluestaeb's overall approach to life (and thinking), but also has direct reference to the making of the album itself, which began with moving from Berlin to Paris in 2015 in the search of new influences and a new creative environment.
Created between 2015 and early 2018, EIAAP embodies the process of this transition - as well as collaboration with instrumentalists and vocalists from all over the world and recording in different studios in Paris, London & Berlin.

"Meeting all those musicians and trying out new ways of producing by using real analogue synths, Rhodes, drums and percussion etc. made it possible to overcome the creative boundaries of a home studio with just a midi keyboard" / Bluestaeb

Influenced by Madlib's "Shades Of Blue" and trained in African drum techniques such as Djembé and Daruka, Bluestaeb had been crafting his own beats since his teenage years and gradually found his sound identity through experimenting with HipHop and Jazz – first to be heard by a broader music community in 2013, when he released his debut album "1991 Extraterrestrial" (Radio Juicy). Since then the prolific young artist has released numerous solo and collaboration projects ("B.L.U.E. Friday" in 2015 and "Sidekicks" with S. Fidelity in 2016). In 2016, he produced collaborative album "LIT - Lost In Translation" with rapper JuJu Rogers, a keen manifesto against racism, xenophobia and the rise of anti-heroes such as Donald Trump.

Today, Bluestaeb lives and works in Paris and Berlin and is set to release his third solo album "Everything Is Always a Process", a smooth Neo Soul-induced epic featuring artists such as Noah Slee, Harleighblu and Melodiesinfonie, via Jakarta Records in 2018.