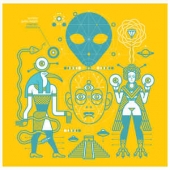 Sonido Gallo Negro
Mambo Cosmico
Label: Glitterbeat
Genre: World Music
Availability
LP 180GR +MP3 COUPON €20.99

Dispatched within 5-10 working days
Hailing from Mexico City, Sonido Gallo Negro's exhilarating third album continues their exploration into the psychedelic richness and rhythmic pulse of Amazonian cumbia while at the same reaching for new sounds and textures – such as mambo, cha cha, porro and danzon.

Filled with frenetic, red-hot identities and sonorities, Mambo Cósmico galvanizes the international reputation Sonido Gallo Negro has earned through their powerful concerts and their earlier records - Cumbia Salvaje (Savage Cumbia, 2011) and Sendero Místico (Mystical Path, 2014 – released outside of Mexico by Glitterbeat).

Mambo Cósmico is a sonic collage that is not only musical, but also cultural and historical. This combo of nine musicians, seek out a new and unexpected musical cosmos that goes beyond their well-honed Mexican and Latin American influences. Their navigational charts point towards an additional synchronicity of sound and imagination with the Middle East, the Hispanic old world and Africa, as embedded within the Americas.

Of the eleven tracks included on Mambo Cósmico, nine are group originals, Tolú by Lucho Bermúdez and ¿Quién será? by Pablo Beltrán Ruiz being the only cover versions. Also, for the first time some of these pieces include vocals and group choruses.