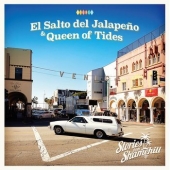 Stories From Shamehill
El Salto Del Jalapeno & Queen Of Tides
Label: Surf Cookie
Genre: Rock / Pop
Ladies and gentleman, from Amsterdam, The Netherlands... Stories from Shamehill!
This sharp dressed threesome takes you on a reverb drenched journey through their smoking' originals.
From the salt and sandy sea breeze to the scorching desert heat. Relentless upbeat stompers and plain ol' wave-riders.
Traditional surfmusic with a modern vibe, same same but different.