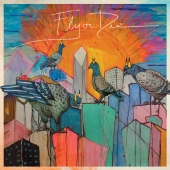 Branch Jaimie
Fly Or Die
Label: International Anthem
Genre: Jazz / Avant Garde
"It's a true joy to listen to Jaimie Branch's Fly or Die. Jaimie's masterful trumpet playing sits at the helm of this gorgeous record, richly supported by a stellar cast of musicians, and upheld by strong and provocative composition." – Sarah Neufeld (Arcade Fire)

"Super out tunes that continually open new doors to strange, sweet, and psychedelic grooves. Band is constantly cracking some ancient alien code here. Seamless and effortless compositions from Branch. An absolute "must jam" for anyone interested in the future of mind expansion." – Ryley Walker

A mainstay of the Chicago jazz scene and an active recent addition to the New York scene, Jaimie Branch is an avant-garde trumpeter known for her "ghostly sounds," says The New York Times, and for "sucker punching" crowds straight from the jump off, says Time Out . Her classical training and "unique voice capable of transforming every ensemble of which she is a part" (Jazz Right Now) has contributed to a wide range of projects not only in jazz but also punk, noise, indie rock, electronic and hip-hop. Branch's prolific as-of-yet underexposed work as a composer and a producer, as well as a sideman for the likes of William Parker, Matana Roberts, TV on the Radio and Spoon, is all on display in her debut record Fly or Die – a dynamic 35-minute ride that dares listeners to open their minds to music that knows no genre, no gender, no limits.