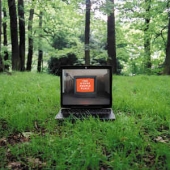 Other People Place
Lifestyles Of The Laptop Cafe
Label: Warp
Genre: Electronica / Ambient / Experimental
Availability
LP x2 +MP3 COUPON €25.99

Dispatched within 5-10 working days
New 2018 press.

An acclaimed classic in the Warp catalogue, the double vinyl edition of the 2001 album is being made available once again.

Original vinyl copies currently going for up to £210 on average on the secondhand market.

Fans have been particularly vocal about Warp re- pressing this title and even started a petition in 2015.

DJs such as Jackmaster and Motor City Drum Ensemble have shared their love of this album and regularly cite as one of their all-time favourite records.

Considered part of the 'Drexciyan Storm' series of releases.