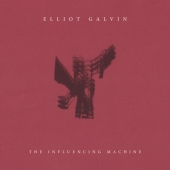 Galvin Elliot
The Influencing Machine
Label: Edition Records
Genre: Jazz / Avant Garde
Availability
CD €15.99

Dispatched within 5-10 working days
The Influencing Machine is the third album by the uniquely creative mind of pianist, keyboardist and composer Elliot Galvin. A maverick musician with a vision like no other of his generation. His bold and idiosyncratic approach has seen him build a reputation as one of the rising stars of European Jazz and improvised music, alongside being a key member of Mercury Music Prize nominated band Dinosaur. Elliot has an uncanny ability to create a truly individual musical sound from a disparate world of influences where the old meets the new.

The Influencing Machine is a sonic exploration of the human mind, technology and our postmodern age, featuring bassist Tom McCredie and drummer Corrie Dick. This album demonstrates a step forward in production and performance by Elliot. Each track is inspired by an overriding concept, that also works to bind the album into a whole making for a unique and compelling listen. The Influencing Machine sees Elliot hone his sonic approach by incorporating a number of electronic sounds to add to his already considerable acoustic pallet: analogue synthesisers, Hammond organ, self-hacked children's toys found in charity shops and many more. Long-time collaborator Tom McCredie augments his formidable double bass playing with the addition of electric guitar to powerful effect. All the components are bound together by the inimitable drumming of Corrie Dick.

'The Influencing Machine' by Mike Jay tells the fascinating historical account of the life of James Tilly-Matthews, born in 1770, a double agent at the time of the French civil war, tea merchant, political thinker, architect and first fully documented case of a paranoid schizophrenic who was committed to Bethlem psychiatric hospital in 1797. Tilly-Matthews' life was a web of espionage and delusion, coinciding with many of the key events of his time: the French revolution, the rise of mesmerism, and the change in societal thinking towards the mentally ill, to name just a few. Tilly-Mathews operated under the unique delusion that he was controlled by a machine: the Air Loom, operated by a gang of criminals and spies skilled in pneumatic chemistry. A uniquely imaginative creation, it was the first documented case of a machine influencing someone's mind, a concept that seems sadly apt in the modern world.

Elliot stumbled across Jay's book in the Wellcome Collection in London. He was immediately fascinated by Tilly-Matthews' life and times and the uncanny parallels with our own modern lives, affected as they are by political turmoil and modern day 'influencing machines'. This hugely ambitious album was written by Elliot Galvin to reflect these timely, yet seemingly timeless themes, blending sounds both old and new to reflect the chaos, the beauty, the joy and sadness of the worlds we live in.

Elliot Galvin is a master musical architect, constructing and manipulating musical ideas to create the desired effects. One example is the track 'Bees dog and flies' where he harmonises a Renaissance folk melody and imaginatively blends it with West African percussive rhythms over distant Hammond organ. Or the track 'Boys Club' which blends a self-hacked child's toy guitar with Tom McCredie's electric guitar, layered with piano, synth and drums, augmented by a melody that subtly references a number of other well known themes, creating a unique sonic environment.