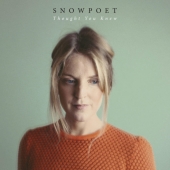 Snowpoet
Thought You Knew
Label: Edition Records
Genre: Jazz / Avant Garde
Availability
LP + MP3 COUPON €24.99

Dispatched within 5-10 working days
Other Formats
Thought You Knew is the second album from Snowpoet, the London based band led by the writing duo of Jazz FM Vocalist of the Year (2016) Lauren Kinsella and composer and multi-instrumentalist Chris Hyson. Born out of a deep musical friendship and mutual understanding, Snowpoet's acclaimed eponymous debut released in 2016 won rave reviews and a devoted audience with its compelling sound, drawing comparisons with Bjork.

With Thought You Knew the musical collaboration and sound takes a big step up in terms of production, musical ideas and execution. Blending sweet hook-laden vocal lines with warm and lush arrangements, the music is infectious, delicate and tasteful. The sound is clear and beautifully produced while the lyrical content exhibits a deep and raw emotion.

The self-penned tunes confirm Lauren and Chris' growing sense of identity as a writing partnership, a progression that's evident in the confidence with which they approach the two covers on the album – 'Dear Someone' by Gillian Welch and 'Snow' by Emilíana Torrini. Lauren demonstrates her ability to inhabit the world of a sophisticated singer-songwriter exemplified by these two heroines.

Featuring saxophonist Josh Arcoleo, guitarist Nick Costley-White, Matt Robinson on piano and Dave Hamblett on drums Snowpoet has produced an album of songs from a full-spectrum colour palette sustained and illuminated by supreme levels of musicianship.

With a new home at Edition Records Snowpoet is set to reach new heights, and is on the verge of building an extensive international following and profile confirming its reputation as one of the most interesting and vibrant vocal led ensembles in the UK today.