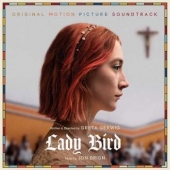 Brion Jon
Lady Bird
Label: Fire Soundtracks
Genre: Soundtrack
Fire Soundtracks and Lakeshore Records release Jon Brion's acclaimed score 'Lady Bird' for the first time on vinyl on February 23rd 2018.

Jon Brion's previous films include the Grammy nominated 'Magnolia', 'Punch-Drunk Love', 'Eternal Sunshine Of The Spotless Mind' and 'I Heart Huckabees'. Known for his songwriting with The Grays and Jellyfish, Jon Brion has also produced records for Kanye West, Fiona Apple, Rufus Wainwright, Robyn Hitchcock, Sky Ferreira and is a well-known collaborator with Evan Dando and Elliot Smith.

Winner of Best Director from the National Board Of Review, actor-turned-director Greta Gerwig's incredible directorial debut 'Lady Bird' is one of this year's most acclaimed films.

One of the most successful releases of the year starring Saoirse Ronan, Laurie Metcalf, Tracy Letts, Beanie Feldstein, Lucas Hedges and Timothée Chalamet, the semi-autobiographical coming-of-age tale is about a young, rebellious woman living in Sacramento and the constraints within a catholic high school.

Limited white vinyl.