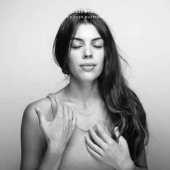 Byrne Julie
Not Even Happiness
Label: Basin Rock
Genre: Rock / Pop
Availability
LP + MP3 COUPON €16.99

Dispatched within 5-10 working days
Sometimes it can take years to find your calling. Not so, for wanderer Julie Byrne; whose power of lyrical expression and melodic nous seems inborn. But often, what comes naturally demonstrates against speed. Julie's second album Not Even Happiness has taken time to evolve, but as it spans recollections of bustling roadside diners, the stars over the high desert, the aching weariness of change, the wildflowers on the coast of California and the irresolvable mysteries of love. Her new album archives a vivid world that would've otherwise been lost to the road and in doing so, Byrne exhibits her extraordinarily innate musicality.

In fact, some of the album's songs took two years of fine tuning to get where they needed to be. And if you were to ask her why the follow up to 2014's Rooms With Walls And Windows has taken so long, you'd only be greeted with a bemused smile as though it's the strangest question she's ever been asked; "Writing comes from a natural process of change and growth. It took me up to this point to have the capacity to express my experience of the time in my life that these songs came from."

Having counted Buffalo, Pittsburgh, Pennsylvania, Northampton, Massachusetts, Chicago, Illinois, Seattle, New Orleans as her home in recent years. For now, Julie has settled in New York City where she moonlights as a seasonal urban park ranger in Manhattan. Whether witnessing the Pacific Northwest for the first time ('Melting Grid'), the morning sky in Colorado after staying up through the night at a house party in the mountains of Boulder ('Natural Blue'), recording the passage of freight trains on the outskirts of Buffalo, New York ('Interlude'), or a journey fragrant with rose water; reading Frank O'Hara aloud from the passengers seat during a drive through the desert of Utah into the rainforest of Washington State ('All The Land Glimmered Beneath'), Not Even Happiness is Julie's beguilingly ode to the fringes of life.