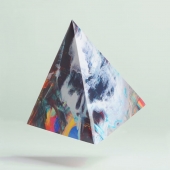 Noya Rao
Icaros
Label: Gondwana
Genre: Freestyle / Nu Jazz / Funk / Afro
Availability
Other Formats
Purveyors of enigmatic dreamscapes and organic, danceable electronica, Leeds-based, electronic-soul quartet Noya Rao are set to release their debut album, Icaros, this November.
Founded by producer Tom Henry (Cosima, Yellow Days) Noya Rao was originally conceived as a solo production project with a separate live band representation. Alongside bassist Jim Wiltshire and drummer Matt Davies, whom Tom had met playing in other bands within the Leeds music scene, the project grew to become a collaborative effort mixing Tom's production ideas with the attributes of Jim's unique bass synth lines and Matt's polyrhythmic beats. Their compositions drew on the influences of jazz, hip-hop and electronic music whilst incorporating the sounds of the bass-heavy-dub music synonymous with the Leeds music scene. Their sound really came into focus when they met vocalist Olivia Bhattacharjee who brought her gospel style and complex choral harmony to the band. Developing from raw, psychedelic improvisations, their sound became more defined and minimal, underpinned by live instrumentation and more structured song writing. This co-existing electronic and organic thread gives the band a strong identity and their powerful live show sets them apart from other producer-led bands. Matthew Halsall from Gondwana Records saw the band perform at an intimate show in Manchester in 2016 and blown away, signed the band on the spot.
Icaros takes the listener on a journey through the band's unique sound-world amplified by Tom Henry's bold and inventive production techniques. Sometimes fragile, sometimes raw and visceral the album opens with the ethereal Azimuth. It's contrasting sections and mysterious chords offer echoes of the band's instrumental beginnings whilst the repeated vocal harmony layers at the end demonstrate a signature feature of the new Noya Rao sound. Moments is the first tune they wrote together and reflects upon taking joy in the everyday: the opening womb-like chords are another distinct sound of the band. The gritty Golden Claw describes the effects of a manipulative heartbreaker; it's darker, more driving and has a ruder '80s flavour. Midas demonstrates the band's use of linear structural forms and complex rhythms influenced from around the globe. It tells the story of someone who, led by greed, made some regrettable decisions. The atmospheric Dreaming Part 1 and Part 2 are sumptuous dreamy soundscapes. They were born from the same epic improv-based writing sessions as Fly, which has a trippy disco vibe, offset with wonky chords and crunching vocal harmony. The hook-led I Feel points to future ventures for the band: mixing their electronic textures with a more formal song-writing approach. A sublime slice of dreamy space-jazz, Same Sun Will Rise, finds Olivia contemplating mankind's utter selfishness and a desire for change, Over borders we've assigned, same sun will rise'. Minimal and spacious, This Time demonstrates the merging of ethereal edginess and delicate songwriting. It is this combined with their electronic and live approach and more than a hint of Leeds attitude that gives Noya Rao their unique sound.