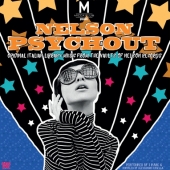 I Marc 4
Nelson Psychout
Label: Vampisoul
Genre: 60s / 70s Rock / Pop / Progressive / Kraut
Availability
CD Digi / Cardboard €16.99

In Stock
Welcome to the second release of Vampisoul's Psychout series.
In this album we dig into the record library of Nelson Records, founded in 1970 by the musicians Maurizio Majorana, Antonello Vannucchi and Roberto Podio after establishing the recording studio Telecinesound, right where the New Italian Library Sound was created. This is the sound that many collectors, musicians, record producers and film directors still like, look for, rediscover and re-use for their work. The New Italian Library Sound has the signature of I MARC 4, a quartet that recorded 20 albums from 1970 to 1980 but who also collaborated with the great masters of Italian soundtracks of the 60s and 70s, especially with Armando Trovajoli, bringing their own style into this new sound, mixing jazz, pop, rock and psychedelic music.
Maurizio Majorana on bass, Antonello Vannucchi on Hammond organ and piano, and Roberto Podio on drums, were the backbone of the quartet, but the real soul was the guitarist Carlo Pes. Although Pes played with the RAI (Italy's public broadcaster) orchestra together with his three colleagues, he did so as an external musician. He was a virtuoso guitar player with international experience who wrote music for the pop singers of the great RCA Italy label. His biggest hits were 'Il Mondo', sung by Jimmy Fontana, and 'Che Sarà' by José Feliciano.
Thanks to their recording visits to Telecinesound, these four musicians were an experienced and very inspired studio band. Through their rhythmic experimentation they created a warm sound, sweet, most of the time sour-sweet, inspired by pop music of the period, filtered by their great technical execution. Their jazz roots did the rest to create the New Italian Library Sound. Any derivation of the pysch-groove genre is explored in this album. Despite having collaborated with the great artists of pop music, it is only in I Marc 4's own records that we have the chance to hear a guitar so rough, aggressive and sometimes disturbing, as was required by the composers of the time.