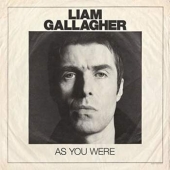 Gallagher Liam
As You Were
Label: Warner
Genre: Rock / Pop
Availability
CD €18.99

Dispatched within 5-10 working days
Deluxe edition.
After the phenomenal reaction to his solo track 'Wall of Glass' and the emotional scenes that accompanied his first solo shows, Liam Gallagher can now announce that his eagerly anticipated debut album 'As You Were' will be released on October 6th on Warner Bros. Records.

"I didn't want to be reinventing anything or going off on a space jazz odyssey," says Liam. "It's the Lennon 'Cold Turkey' vibe, The Stones, the classics. But done my way, now."

The album's cover features an iconic new portrait of Liam which was taken by the influential photographer, fashion designer and creative director Hedi Slimane.