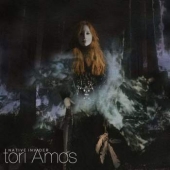 Amos Tori
Native Invader
Label: Decca
Genre: Rock / Pop
Availability
CD BOOK €17.99

Dispatched within 5-10 working days
Other Formats
Deluxe edition, includes 2 bonus tracks.
Celebrated singer-songwriter Tori Amos unveils her hotly-anticipated new album Native Invader – to be released on Decca Records. Native Invader is Tori's 15th studio album, following on from 2014's Unrepentant Geraldines – her 8th Billboard Top 10 album. This will be her first release on Decca Records – moving from sister label Mercury Classics.
Speaking of the new album, Tori Amos says:
"The songs on 'Native Invader' are being pushed by the Muses to find different ways of facing unforeseen challenges and in some cases dangerous conflicts. The record looks to Nature and how, through resilience, she heals herself. The songs also wrestle with the question: what is our part in the destruction of our land, as well as ourselves, and in our relationships with each other?
In life there can be the shock of unexpected fires, floods, earthquakes, or any cataclysmic ravager – both on the inside and outside of our minds. Sonically and visually, I wanted to look at how Nature creates with her opposing forces, becoming the ultimate regenerator through her cycles of death and re-birth. Time and time again she is able to renew, can we find this renewal for ourselves?"
Tori's confessional style of writing sees her continue to push boundaries with her music. Her messages of empowerment, tenderness, acerbic assertiveness and her utterly peerless sound speaks to audiences across the globe. In this new album, Tori delves even deeper into her personal experiences, and the standard is there to be seen.
A pioneer across multiple platforms, Tori was the first major label artist to offer a single for download. Nominated for multiple Grammy Awards, she has had her songs turned into graphic novels and has produced ground-breaking videos throughout her career. In late 2016 she released the title song 'Flicker' to the acclaimed Netflix documentary 'Audrie and Daisy', addressing issues of high school rape. A noted humanitarian, Tori is co-founder of RAINN (Rape, Abuse, and Incest National Network), which is the United States' largest anti-sexual assault organization.