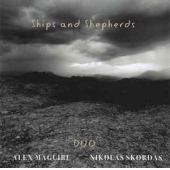 Maguire Alex & Skordas Nikolas Duo
Ships And Shepherds
Label: Slam Productions
Genre: Jazz / Avant Garde
Alex Maguire: piano, Nikolas Skordas: tenor and soprano saxophones, gaida (bagpipe), tarogato, flutes, bells, whistles. Special guests: Don Stavrinos: trumpet, flugelhorn & Stathis Diamantidis: double bass.
The Maguire/Skordas duo came out of a chance meeting at a gig when Alex was playing in Athens, April 2016. Later the same year Alex returned to Greece to explore possibilities of the duo; this CD, recorded live in Athens, is testament to its success.
Alex describes it: "Songs of the land and the sea, journeys from afar and journeys within are the themes of 'Ships and Shepherds', the debut recording of the Alex Maguire-Nikolas Skordas duo. From Odysseus, the archetypal "man of twists and turns", to the immovable monasteries and hermitages of Greek orthodoxy, a new voice emerges where ancient melodies and instruments join contemporary improvisatory models to forge a modern spiritual music which touches both the heart and mind."