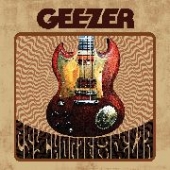 Geezer
Psychoriffadelia
Label: Kozmik Artifactz
Genre: Rock / Pop
Just one year after the release of Geezer's
excellent self-titled album, the power trio releases its
sophomore album 'Psychoriffadelia'. Geezer is all about the
power of the riff, the mind expansion of psychedelia, and the
intensity of the electricity. These are the things that Geezer
brings together and that's what created 'Psychoriffadelia'.