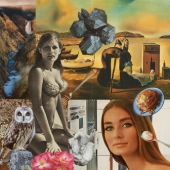 Sterling Maxwell
Hollywood Medieval
Label: The Death Of Rave
Genre: Soundtrack
First vinyl edition of Hollywood Medieval, the debut album of psychogeographic dramaturgy by Manchester-born soundtrack composer, Maxwell Sterling. It was initially issued as a digital release on LA-based Memory No.36 Recordings in 2016 to a round of acclaim from Fact Magazine and The Wire and has now been re-mastered by Matt Colton for this vinyl edition. It sounds as plasticky sensuous as it should, and arguably looks worthy of a wall or pedestal in a Bel-Air or Moss Side pad thanks to its striking bespoke cover art collage by radical feminist and Manchester punk legend, Linder (Sterling), aka Maxwell's mum.

Hollywood Medieval is an album about the glaring disparities and elaborate, underlying convolutions the composer observed and felt while working as a nanny for wealthy parents during his film composition studies at UCLA in the early part of the 2010s. Using an augmented palette of classic DX7 and Juno 60 synths along with a severely warped bank of library samples and iPhone recordings, it spells out a queasily evocative simulacra of the city in flux, animating a sort of Ballardian tableaux that's hyper-descriptive in its rendering of the hazy, dosed-up, and often delirious transitions between Hollywood's glamour and grime, using LA's gurning facades and ostentatious wealth as prompts for a richly visual side of sawn-off emotive signposts and jazz- taut turns of phrase that vividly etch on the memory in neon freehand.

From the dizzying sugar rush of the opening sequence, Hollywood Medieval I, to its spiralling counterpoint in Hollywood Medieval II, the album is an inception-like concerto, with Maxwell smartly subverting the film score composer's role by placing the music centre stage and allowing the narration to be carried by virtuosic flourishes owing to the artist's classical and jazz music schooling.

In a sense, Hollywood Medieval resonates with the way Sam Kidel subverted the nature of ambient music on Disruptive Muzak [RAVE014], and offers an alternative, lucid view of the hazy LA offered by Delroy Edwards' Teenage Tapes [RAVE005], and likewise, works like a present diagnosis of
the dystopian future worlds dreamed up in The Sprawl's dystopian, widescreen visions on EP1 [RAVE013], effectively broadening and illuminating The Death of Rave's own sonic hauntology.
Colored vinyl.