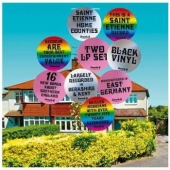 Saint Etienne
Home Counties
Label: Heavenly
Genre: Rock / Pop
Availability
CD Digi / Cardboard €17.99

Dispatched within 5-10 working days
The Home Counties are an embarrassing place to come from. The name itself suggests that somehow the rest of Britain isn't 'home', not even London. It's where John Major's vision of cricket and warm beer was meant to exist, but it's not really like that at all, and it never has been. The Home Counties are a land of bootleg DVDs at car boot sales, Waitrose bags for life, parking disputes, bored teenagers in semis inventing ghost stories, squaddies causing trouble at all-you-can-eat buffets, train drivers in eyeliner and suburban rebels, a place where Tony Hancock and Spike Milligan drew inspiration.

Saint Etienne grew up in the Home Counties. Here are sixteen new songs they have written about a day in the life of this doughnut of shires that ring the capital, punctuated by bursts of BBC radio to remind you what time it is, and all connected by train journeys - main lines, branch lines, commutes, escapes.

It begins with SOMETHING NEW, and a teenage girl creeping through the front door after staying out all night. It stops at WHYTELEAFE, and imagines what might have happened if David Bowie had remained David Jones of Bromley, stuck with a desk job. It summons up the Enfield Poltergeist on HEATHER, and the anarchy of Essex's Plotland settlers on SWEET ARCADIA. TRAIN DRIVERS IN EYELINER wonders what the railway network might be like if it was organised according to ASLEF's taste in music.

The love/hate relationship people have with 'home' is particularly acute in the Home Counties. Yet Saint Etienne understand that, if you squint, it could be almost utopian - here are the post-war new towns, much of the country's modernist architecture, and the non-league football heroes of Sutton United, Leatherhead, Harlow Town. Three of the Beatles lived here. So did the Prodigy, the Zombies, Depeche Mode, Dr Feelgood and, naturally, Saint Etienne, small town groups looking to the capital but audibly inspired by municipal housing, box hedges and ring roads.
The album was produced by Shawn Lee of Young Gun Silver Fox, with support from Augustus (Kero Kero Bonito), Carwyn Ellis (Colorama, Edwyn Collins), Robin Bennett (The Dreaming Spires), Richard X (Girls On Top / Black Melody) and long-time collaborator Gerard Johnson (Denim, Yes). It was recorded in central London. Sarah, Bob and Pete commuted to the studio every day for six weeks.