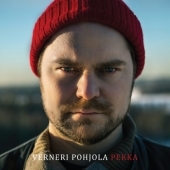 Pohjola Verneri
Pekka
Label: Edition Records
Genre: Jazz / Avant Garde
Availability
Other Formats
'Pekka' is the new, epochal album in Finnish trumpeter/composer Verneri Pohjola's already illustrious and prolific career. An album that promises to be a defining moment in Finnish culture, Pekka reinterprets the music of Verneri's late father Pekka Pohjola, the internationally acclaimed and revered prog-rock bassist and composer, through the prism of his son's unique vision. Due for release worldwide on 2 June 2017, Pekka is one of the most anticipated albums to emerge from the Finnish progressive, rock and jazz scenes for some time. Seeking to combine Pekka's music, adored in Finland and internationally during the last four decades, with Verneri's powerful sense of music making, 'Pekka' is an album that will excite, inspire and move many fans across borders, generations and genres.
Approaching his 40th birthday, Verneri is in his musical prime. With an undeniably unique trumpet sound and a gift for blending raw emotion, technical finesse and control and with an ear adept at finding the middle way between accessibility and the avant-garde, he has developed an impressive profile in his home country and internationally as a leading European jazz performer, bandleader and composer.
Born into a Finnish musical dynasty, Verneri was destined for a musician's life. His grandfather, Ensti Pohjola, was a well respected and highly active amateur conductor and cellist and his father's cousin is the conductor Sakari Oramo. His father, Pekka Pohjola, climbed to international fame in the 1970's playing with Finnish prog group Wigwam and leading his own groups in the progressive rock, rock and jazz scenes.
In 2008, aged 56, Pekka Pohjola passed away leaving behind an extensive catalogue of music and a dedicated international fanbase: a void and a vital legacy in the Finnish music scene. The impact of his work and his fame on him as family man and father was more problematic. Leaving the family home to embark on years of touring, recording and composition, Pekka had intermittent contact with the young Verneri and his brother Ilmari (now a trombonist with Edition group Oddarrang). To them he must have seemed a distant father as well as legendary bassist.
With Pekka's passing, there has been huge anticipation from fans and media, particularly in Finland, that Verneri would perform his father's music. Finally, following an invitation from friend and mentor Jukka Perko to appear at his festival Viapori in 2016, Verneri felt ready and comfortable to immerse himself in his legacy. Performing with Tuomo Prättälä on Fender Rhodes, Teemu Viinikainen (Guitar), Mika Kallio (Drums), Antti Lötjönen (Bass) he knew instantly that this was the right combination of musicians and instrumentation to make the album. He had the band and the inspiration. The moment was right at last.
Verneri's previous album Bullhorn, released in Feb 2015, received massive praise internationally. Jazzwise Magazine said: '…this album takes its place among the truly finest albums of recent times and sees him graduating from the star-in-the-making mantle he has carried for so long in European Jazz, to fully-fledged star". To follow such success is no easy task. To do so with such grace, emotion, respect and poise is a rare confirmation of this talent.
The music on Pekka, is taken from albums spanning over two decades. As Verneri explains. 'Of course I had grown up with Pekka's music and I had my favourites such as Benjamin, First Morning and The Dragon that I wanted to record. Often I was surprised to find music I did not know but I knew I wanted to find a balance to the whole album. Rediscovering the music was an emotional and therapeutic exercise for me and recording the album provided me with the perfect way to remember him as a father and musician'.

Pekka is the album that the many fans of Verneri Pohjola, Pekka Pohjola and Wigwam have long waited for and will command huge attention and adoration from audiences not just in Finland, the UK (where Wigwam's singles were released on Virgin) and the States (on Verve) but internationally as well.