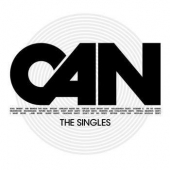 Can
The Singles
Label: Mute
Genre: 60s / 70s Rock / Pop / Progressive / Kraut
Availability
CD Digi / Cardboard €17.49

Dispatched within 5-10 working days
Can – The Singles, a brand new collection of all of the band's single releases, on triple vinyl, download, CD.
This unique document is the first time the singles have been presented together and shows the breadth of their influential career, from well loved tracks like Halleluwah, Vitamin C and I Want More to more obscure and sought after singles such as Silent Night and Turtles Have Short Legs.
The tracks are all presented in their original single version, many of which have been unavailable for many years and not presented outside of the original 7" release.

The triple vinyl comes packaged in a trifold sleeve and decorated with a beautiful spot gloss lamination and is designed by the award winning Julian House from Intro, a long time design collaborator of Can's.

The CD and download versions of the album serve as the perfect easy entry point to the world of Can for the uninitiated and are priced accordingly.
The vinyl serves as a wonderful document to this corner of the Can world for the hardcore fan and is an often overlooked area of the band's career.
Tracklist:
CD
1 Soul Desert
2 She Brings The Rain
3 Spoon
4 Shikako Maru Ten
5 Turtles Have Short Legs
6 Halleluwah Edit
7 Vitamin C
8 I'm So Green
9 Mushroom
10 Moonshake
11 Future Days Edit
12 Dizzy Dizzy Edit
13 Splash
14 Hunters And Collectors Edit
15 Vernal Equinox Edit
16 I Want More
17 ....And More
18 Silent Night
19 Cascade Waltz
20 Don't Say No Edit
21 Return
22 Can Can
23 Hoolah Hoolah Edit