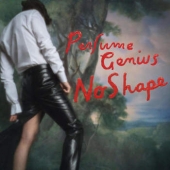 Perfume Genius
No Shape
Label: Matador
Genre: Rock / Pop
Availability
CD Digi / Cardboard €17.49

Dispatched within 5-10 working days
Perfume Genius's 2014 breakout album Too Bright— featuring seismic anthem 'Queen' — marked a musical and performative leap that sounds unlike anything before or since. With his new songs, Hadreas goes even further, merging church music, makeout music, R&B, art pop, krautrock, and queer soul into his take on stadium anthems, completing the journey from critically acclaimed underground hero to fully fledged pop auteur.
First single 'Slip Away' encapsulates this bold, expansive and sophisticated sound, marrying powerful and intimate songcraft with a newfound visceral and immersive sonic gusto.
Directed by frequent Björk collaborator Andrew Thomas Huang, the video for 'Slip Away' is a phantasmagorical narrative painting come to life, depicting the intimate relationship between two sisters, one of whom is played by Perfume Genius.
Of the album, Hadreas says: "I pay my rent. I'm approaching health. The things that are bothering me personally now are less clear, more confusing. I don't think I really figured them out with these songs. There's something freeing about how I don't have it figured out. Unpacking little morsels, magnifying my discomfort, wading through buried harm, laughing at or digging in to the embarrassing drama of it all. I may never come out the other side but it's invigorating to try and hopefully, ultimately helpful. I think a lot of them are about trying to be happy in the face of whatever bullshit I created for myself or how horrible everything and everyone is."

In a bio for the album, writer Choire Sicha says, "God is all around actually and some of these songs are about being equal and some are about the witchcraft of believing. This is church music the same way Prince's Black Album is — too dirty. It's femme art pop the way Kate Bush's The Dreaming is — too scary."