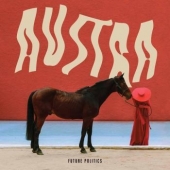 Austra
Future Politics
Label: Domino
Genre: Electro / Electro-Rock
Availability
CD Digi / Cardboard €15.49

Dispatched within 5-10 working days
Future Politics, Austra's third, and most ambitious album to date, calls for radical hope: "a commitment to replace the approaching dystopia," says Katie Stelmanis, who leads Austra with the support of Maya Postepski (Princess Century, TR/ST), Dorian Wolf, and Ryan Wonsiak. "Not just hope in the future, but the idea that everyone is required to help write it, and the boundaries of what it can look like are both fascinating and endless. It's not about 'being political,' it's about reaching beyond boundaries, in every single field."
Future Politics is a collection of urgent, disciplined anthems for dancefloors and headphones alike, that asks each of us to remember that apocalypse is not an inevitability, but the product of human decision-making. It aims for a world without borders, where human compassion and curiosity drive technological innovation rather than profit, where the necessity of labour is replaced with time for creativity and personal growth, and the terror and destruction wrought by colonialism and white supremacy is recognized as a dark age in human history. The album is radicalism distilled: to galvanic beats, gorgeous, kinetic melodies, and the vulnerable majesty of Stelmanis's voice.
Inspired by her time living in two cities – Montreal and Mexico City – and propelled by economic and philosophical texts she was reading throughout the album's creation, Stelmanis was driven to face the world's ailments with positivity, purpose, and engagement, rather than detachment or despair. Inspiration also came from European club culture - Objekt, Peter Van Hoesen, Lena Willikens as well as the likes of Massive Attack; in all, artists who understand the dancefloor as a source of radical ideas and radical joy.
Change, Rebecca Solnit (author, activist, environmentalist and editor at Harper's Magazine) writes, comes from "writers, scholars, public intellectuals, social activists, and participants in social media". Stelmanis adds "artists, club scenes, parties, teenagers, ghettoes" to that list - "every single person's idea about the future is valid and relevant, especially the freaks and the queers and the outsiders."
Album art photography by Renata Raksha at Luis Barragan's Cuadra San Cristobal in La Ciudad de Mexico.