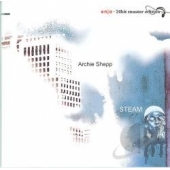 Shepp Archie
Steam
Label: Enja
Genre: Jazz / Avant Garde
Availability
CD Digi / Cardboard €13.49

In Stock
Recorded live at the East-West Festival, Nuremberg, Germany on May 14, 1976. Includes liner notes by Archie Shepp and Ron Welburn.

Tenor sax titan Archie Shepp spent much of the 1960s and early '70s blazing new trails in jazz, but on this 1976 live set, he leaves his more avant-garde leanings on the shelf and opts instead for a bebop-based approach. Working in a trio alongside drummer Beaver Harris and bassist Cameron Brown, Shepp has plenty of room to move throughout STEAM. And even though his starting points here include such compositions as Charlie Parker's "Ah-Leu-Cha" and Duke Ellington's "Solitude," Shepp nevertheless heads out into plenty of new directions from there. Brown's twisting, serpentine lines provide a perfect foil for Shepp's raw, robust tone; you can almost hear Shepp thinking three moves ahead of whatever harmonic juncture he's at, and he consistently arrives somewhere interesting.

Personnel: Archie Shepp (tenor saxophone); Cameron Brown (acoustic bass); Beaver Harris (drums).