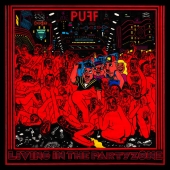 Puff!
Living In The Partyzone
Label: Slovenly
Genre: Electro / Electro-Rock
From the sadly sanitized bowels of Berlin, PUFF comes correct to the Slovenly / Mondo Mongo roster once again with the madcap "Living In The Partyzone" LP. These mysterious dumpster dwellers deliver 10 tracks of electro-analog chaos, heavy on the attack and decayed beyond recognition. Housed in despicable cover art that we fully endorse, PUFF's beatification of German forefathers THE MONKS with a heavy nod to DEVO creeps into your psyche with helium-headed punk goop. PUFF has been known to cause erectile dysfunction and red eye with half broken organs and barely repaired synths, pairing with misappropriated guitars to create an animated racket that is intended to destroy the party (people). Absurdist lyrics pilfered from the journal of taxi driver turned comedian Travis Bickle weave around John Carpenter samples and itchy melodies to construct music that's grown like mold from an over fermented pair of minds, transforming "garage music" into music from a dilapidated garage containing a broken dishwasher and a forgotten collection of Joe Meek records. Buzzing synth spars with surf guitar twang on "Psychological Survival", one of only a handful of tracks sung in English, with the rest mouthed in the mother tongue. Animatronic frivolity reigns supreme here, with sounds fit for a post-apocalyptic arcade game, and lyrical outrageousness that never wavers regardless of their chosen language.