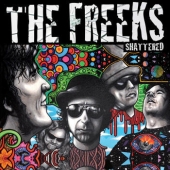 Freeks
Shattered
Label: Heavy Psych Sounds
Genre: Rock / Pop
Availability
LP €21.99

Dispatched within 5-10 working days
Other Formats
Featuring ex-members of Fu Manchu and Nebula. Everything has a beginning, whether it by accident or by design. A journey consists of trials and errors until finally reaching a full circle…ever evolving, revolving over and over again. Set in constant motion, the gathering of speed reaching ultimate vibrations until it's all "SHATTERED!" This can also be said in regards to Los Angeles, CA based quintet "The FREEKS" as they return from yet another complete orbit with their third full length LP, "SHATTERED". What started as an accident, brought on a thought, which then began a project that grew into a solidified unit of sonic purification!
The FREEKS, led by Ruben Romano, have consistently moved upward since their conception in 2007 and have gracefully matured since their first Self-Titled LP release in 2008 on CARGO GERMANY RECORDS. While the initial project collaborated with players from around world, in 2010, Romano gathered together a more local unit of musicians, all baked under the L.A. heat, to achieve a consistent flow of creation. This was followed by The FREEKS critically acclaimed 2013 Sophomore LP "FULL ON", released on the band's very own label "FREEK FLAG RECORDS". Now in 2016, The FREEKS prepare to sling shot and extend the trajectory of their already existing orbital path by joining forces with "HEAVY PSYCH SOUNDS RECORDS" to release this latest revolution!
The FREEKS are fully ready to shake it until it's all "SHATTERED". Middle of November. It's getting darker every day, colder. The mornings are cold, the leaves are starting to fall. None of this happens in The Freeks' native Los Angeles, of course, but for those of us living in the seasonal world, the heavy rockers' third album, Shattered, should arrive just in time to remind that there's life happening somewhere. It's been three years since The Freeks issued their aptly-titled sophomore full-length, Full On and in that time their reputation as a vibrant live act has only grown. As the year winds down, it looks like The Freeks might provide a late-2016 highlight.The new album "Shattered" is a mix of the old Nebula style, mixing heavy fuzz riffs of desert rock n roll with a fresh breath of a new wave, adding synthesizers, keyboards and more arrangements.
Colored vinyl.