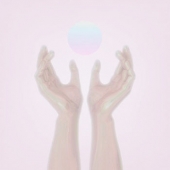 Machinedrum
Human Energy
Label: Ninja Tune
Genre: Electronica / Ambient / Experimental
Availability
LP x2 180gr +MP3 COUPON €22.99

In Stock
With 'Human Energy' Travis Stewart (aka Machinedrum) has made a career-defining album, one which will take him from best-kept-secret of the electronic music cognoscenti to breakout star of the US music scene.
Written between January and April 2016, the record "reflects a period of great change in my life. I moved across the country to a new city, I proposed to the girl of my dreams, I moved into a new house, bought a brand new computer and set off to write a new album." As well as these personal elements, moving to California allowed Stewart to explore a long-held interest in "esoteric and new age concepts... When I was younger I started researching energy healing, meditation and other pseudosciences after learning that my great grandfather was a healer."
Somehow, these ideas began to provide a vitality and intensity for his music-making: "I played the songs for friends and their immediate reaction was that the songs made them feel something in their bodies, like the music was pouring energy into them. I realized that I was creating an album that will make people feel something instantly, connecting my intention with the listener." Stewart is well aware that some of these ideas will come over as "straight up cheesy." His best rebuttal is his album, which astounds over and over again with the sheer brilliance of its execution, the warmth and beauty it resonates with, and yes, the unremitting energy of the music.
From opener 'Lapis', Machinedrum sets out his stall - an arpeggio ascending to Heaven which, apparently building towards the mother of all drops, instead fades up and off into the ether. The music throughout is scintillating, from the mind-candy riffs of 'White Crown' (featuring some crazy guitar work from Tosin Abasi of progressive metal band Animals As Leaders), the ecstatic d&b finale of 'Do It 4 U' (an absolute stand-out with showstopper vox from singer-of-the-moment D∆WN), the smile- inducing, melodic brilliance of 'Colour Communicator' or the precision and build of 'Dos Puertas' featuring Rihanna collaborator Kevin Hussein.
Fresh off the back of two prominent collaborations on Beyonce's 'Lemonade', MeLo-X offers understated, classy assistance on the wonderful 'Angel Speak', sitting his voice in amongst heavenly vocal chops. Jesse Boykins III offers a moment of astral r&b goodness on 'Celestial Levels'. Rochelle Jordan provides the lift off as Machinedrum works the rhythm flips on 'Tell U'. There are also contributions from Ruckazoid, Roses Gabore and SK Simeon.