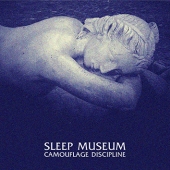 Sleep Museum
Camouflage Discipline
Label: Preset
Genre: Electro / Electro-Rock
Preset Recordings welcomes Sleep Musem!
Founded in 2005 by Robert Anthony in Brooklyn, New York, Sleep Museum is a dark and melodic music project
that is reminiscent of early 80's "cold / minimal synth" music, but at the same time it's also contemporary.
Sleep Museum has releases on BloodLust! Records, Anna Logue Records, Wierd Records and has appeared as 'After The Snow' with Enfant Terrible.

Numbered Edition of 50.