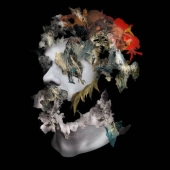 Koosha Ash
I Aka I
Label: Ninja Tune
Genre: Electronica / Ambient / Experimental
Availability
CD Digi / Cardboard €11.99

In Stock
• 'I AKA I' is the first album on Ninja Tune from Iranian-born, London- based electronic musician Ash Koosha.

• Synaesthete, virtual reality pioneer, software humanist, political cause celebre, former rock musician and student of classical music, there are as many facets to Koosha as there is texture in his fractal, complex, remarkable music.

• Koosha has been lauded for his "mind-bending electronic music" (Pitchfork) and "intimate, elegantly fractured, beat-driven music" (The Guardian).

• Run The Jewels, Empress Of, Autre Ne Veut and FACT all count themselves as fans.

• Koosha has also had to cope with a brief imprisonment for his music and seeking asylum in the UK, where he lives as an exile, unable to return home.

• CD digipack with gold foil detail.