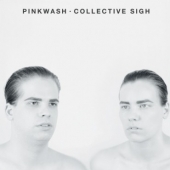 Pinkwash
Collective Sigh
Label: Don Giovanni Records
Genre: Rock / Pop
COLLECTIVE SIGH is the debut LP from Philadelphia's prog-punk duo PINKWASH, the follow up to their 2014 Your Cure Your Soil EP and 2015's Cancer Money(both out on Sister Polygon Records). With the release of the full-length on Don Giovanni Records, the band showcases their hypnotic mathy metal riffs and tight punishing drumming.

The powerful delivery of the vocals "from a high-pitched scream, on the verge of cutting out, to a strong-trained melody" is one of a kind, undeniably unique. And that's a good way to describe the music itself, easy to make comparisons, but all the explanations of Fugazi-like angularity, early At the Drive-In vibes, and the, daresay,"post-hardcore" feel don't encompass the sound that is PINKWASH.

This is heavy, distorted music, full of passion and care, made by two artists who are clearly locked in on the same plane, as shown by flawless synchronicity in songs such as "SPACE DUST". The band builds non-linear structures around repetitive riffs, that not only keep you on your toes, but anxious to hear what's next, all underpinned by the high-octane energy that typifies their music. Whether moving from the melodic "HALFMOON" to the dreamy dissonance of "WALK FORWARD WITH MY EYES CLOSED" COLLECTIVE SIGH maintains cohesion, while pushing the envelope with the band's dynamic sound.