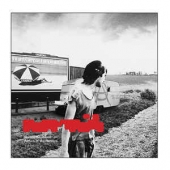 Normil Hawaiians
The Return Of The Ranters
Label: Upset The Rhythm
Genre: 80s Wave / Rock / Pop / Punk
Availability
LP €7.99 Nice Price

In Stock
Normil Hawaiians have always operated as a collective of musicians rather than a band per se and for this third album, the group comprised of Guy Smith, Simon Marchant, Alun 'Wilf' Williams, Noel Blanden and Jimmy Miller. Recorded at Dave Anderson's Foel studio in Wales (sonic home of Amon Düül II and Hawkwind) in the Winter of 1985, a time and a place triangulated from political, social and geographical aspects, 'Return Of The Ranters' extended their free experiments in compelling arrhythmia and seemingly organised sound, taking a loose trajectory from their previous albums and earlier, more confrontational approach.



This album marks the first step in a considerable project Upset The Rhythm have in mind to reissue/reappraise the band's other two epic albums 'More Wealth Than Money' and 'What's Going On?' that came out in 1982 and 1984 respectively, which will be accompanied by abundant liner notes, bonus tracks, rehearsal takes, rarities and singles



During the brief English Commonwealth (1649-1660), a number of radical groups blossomed across the land; nonconformists, nudists, shakers, quakers, opponents of Church/State and of property ownership, free-thinkers, Diggers, Levellers and Ranters...



"Ill fares the land, to hastening ills a prey, Where wealth accumulates and men decay"
Oliver Goldsmith



In the equally austere years of the post-punk permafrost, and under the grip of another ruthless despot, freedom was in part personified by the widely vilified and brutally attacked people's Peace Convoy - a manifestation of idealism that was grotesquely smashed near Stonehenge on 1st June 1985; 537 arrested, children terrorised, idealism and hope stamped on with fear and violence. What was essentially a class war had been joined in the previous year with horse charges and gloved fists against miners and their families across Yorkshire. This was clearly intended to force home the point - 'You are nothing. We own you and your labour. You work for us.' It was during these dark times that NORMIL HAWAIIANS third album, 'Return Of The Ranters' was written, recorded and shelved.



The album opens amidst vast clouds of atmosphere before the tape looped violin of 'Sianne Don't Work In A Factory' starts to drag the song out of itself and into a sparse yet tender love song, full of hope, exalted synths and mechanised drum patterns. Acoustic guitars and walls of keyboard drone provide a fitting acre of space for the raw polemics of 'Slums Still Stand', whilst 'The Search For Um Gris' follows in full head-down, motorik mode with a miraculously hypnotic drum beat and whirling mood. "What's the colour of your heart?" sings Guy as the song spools out and grows onwards into the distance. 'Battle Of Stonehenge' is a powerful and emotive recording detailing the band's personal experience of the aforementioned Police ransack of the Peace Convoy from the same year, and as a result provides the rallying point of album. Beginning bravely as a solitary spun-out voice, the song eventually becomes awash with choruses of guitar and reverberating synth, joined finally by adornments of violin and an entrancingly agile beat. 'Mouldwarp's Journey' concludes the album with 10 minutes of epic improv, drawing on field recordings, murmured vocals, slowly-phasing tonal clusters, a miasma of percussion and wordless rapture.



Lucid, candid, politically engaged, rarely metronomic but always humane, tired but still fighting, Normil Hawaiians' third album has waited patiently for thirty years. 'Return of The Ranters' was not released back in 1985 as with Guy, Jimmy and Wilf living in squatting communities in South London, and Simon and Noel re-locating their families to rural Kent - the Family Hawaii splintered and went its separate ways. In the intervening years, the band's reputation has grown considerably, far beyond the UK. Now the causes and conditions have finally come right, the Family Hawaii are very excited to announce that Upset The Rhythm will finally release 'Return Of The Ranters' on October 23rd, 2015 and that Hawaiians old and new will be supporting and celebrating with a live manifestation at The Lexington in London on 24th October. Come rejoice with us. All that falls, now falls into place...and all that was air now becomes solid.