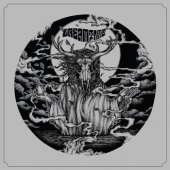 Dreamtime
Dreamtime
Label: Cardinal Fuzz
Genre: Rock / Pop
Hailing from Brisbane Australia's underground DIY scene is the premier psychedelic outfit, Dreamtime. Here on their debut LP Dreamtime's music feels like a ritual as sounds switch from skull crushing fuzz on a bad trip to extended mediations in the outback, all in the blink of your third eye. Plain and simple, this album is for fans of heavy psychedelic rock.
A long-time favorite of ours, Dreamtime's S/T debut album was originally released on vinyl in Australia in 2011 but the small pressing prevented it from gaining momentum outside of the outback. (Captcha/Cardinal Fuzz are also reissuing the bands follow-up LP Sun, so keep your eyes peeled for that one) Dreamtime have toured with Bardo Pond, Moon Duo, Kikagaku Moyo, Boris, Earth, Earthless, King Gizzard as well as playing the prestigious Austin Psych Fest. From what we gather, there will be gas in the tank for the years to come.
When you feast your eyes on the packaging of Dreamtime know that the occult illustrator Henry Bennet had his mind's eye wide open on that creation. It is situated on a heavyweight reflective mirror-board sleeve and the heavyweight vinyl will be pretty in pink. For the love of all that is "Out There" and heavy.