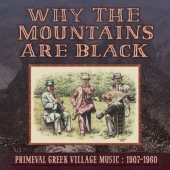 Various Artists
Why The Mountains Are Black - Primeval Greek Village Music: 1907-1960
Label: Third Man
Genre: World Music
Availability
CD x2 Digi / Cardboard €24.99

Dispatched within 5-10 working days
Third Man Records is proud to present a truly rare musical oddity—a two disc collection of primal and unhinged Greek village music that at times sounds more like free jazz or doom folk, feral and trance-like as it is. After years of research, fieldwork and collecting, Christopher King—Grammy-winning producer, sound-engineer, curator and writer—has gathered together from his private 78 rpm archive the most mind expanding and libido inducing song and dance music from the rural hinterlands of mainland Greece and its islands. Recorded between 1907 and 1960, this collection contains the first and the last—the alpha and the omega—of Greek demotika—or folk music. And it is not what you would expect.
Remastered from the original 78 rpm discs, this set contains 28 previously unissued recordings made in the cramped, primitive studios of Athens, Greece, New York, NY, and Chicago, IL. Crazed Macedonian bagpipes, keening violins, shiver-inducing zournas and shepherd-pipes are found throughout the two discs. Cover artwork is by legendary underground artist R. Crumb and designed by Grammy winning Susan Archie. A beautifully thought-provoking if not radical essay on this music by King accompanies the lavish package. Not simply for historians or collectors of long gone sounds, this compilation is intended to push the limits of what we have come to expect of music, its purpose and indeed its origin. You will experience a profound musical transformation immediately upon listening.
Produced by Christopher King who has been profiled recently in the New York Times Magazine, Oxford American Magazine, and on NPR.