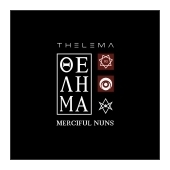 Merciful Nuns
Thelema Viii + Allseeing Eye Ep
Label: Solar Lodge
Genre: Dark / Post Punk / Gothic / Neo-Folk
Availability
CD x2 Digi / Cardboard €15.49

Dispatched within 5-10 working days
The Trio Infernal strikes again: THELEMA VIII, the eighth album from the occult rock gods led by mastermind Artaud Seth (ex Diary of Dreams, Garden of Delight) has been announced.
The man himself, Jawa Seth and Jón Tmoh arguably spearhead the international Goth-Rock scene. Hardly any band in this genre can boast a vitae like the MERCIFUL NUNS. Concert attendants in Europe, South and Central America can attest to this claim.</p>
<p>"Thelema VIII" pounds my ear-drums with an implosion of driven impellent Occult-Rock. Rarely has an album succeeded in drawing the listener so convincingly and quickly under its spell. Instantly pinpointed and excessive songs, wildly scrimmaging and menacingly dark penetrate the auditory canals. In the NUNS' typical style we find the synapsis exceeding the process of mere listening by posting a fundamental question of meaning in its literary context. On this occasion we find the inquisitive Socrates on his journey into the abyss of a dystopic society living in accord with Thelemitic principles on a distant exoplanet. Still got questions? Join the dark side!