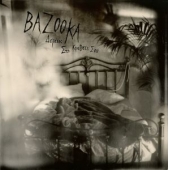 Bazooka
Demenos Sto Krevati Sou
Label: Sound Effect
Genre: Rock / Pop
Availability
Other Formats
Black vinyl.
"Demenos sto Krevati Mou"is the first new release for more than 2 years
from, Greece's greatest psych-punk hope, Bazooka. A Sound Effect Records
exclusive, this limited 7-inch single demonstrates Bazooka's significant
evolution in both sound and writing, taking their message to new raw
heights of musical sophistication, expressive power and lyrical finesse. The
a-side, "Demenos sto Krevati Mou" ("Tied in my Bed") is sang in Greek,
marking the band's return to their Mediterranean roots, more evident in
their upcoming sophomore album "Ahristi Genia" ("Useless Generation"), due
out in February 2016 on Slovenly Recordings. The b-side, recorded in
Belgium in the fall of 2014, is a 7-inch exclusive and is sung in English.
Striking b&w "noir-ish" artwork for this limited edition 7-inch, on 250 black
& 160 grey vinyl copies for the world.