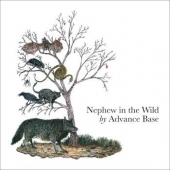 Advance Base
Nephew In The Wild
Label: Tomlab
Genre: Rock / Pop
It's been three years since Advance Base's debut album, A Shut-In's Prayer, made #19 on MOJO Magazine's Best Albums of 2012 list.
Since then, singer, songwriter & multi-instrumentalist Owen Ashworth has contributed electric piano & co-writing credits to Sun Kil Moon's critically acclaimed 2014 album, Benji, & produced more than a dozen other releases for his own label, Orindal Records.
He has published a book of drawings, made beats for Chicago rapper Serengeti, recorded the debut single by psych-folk troubadour Julie Byrne, paid tribute to gospel & outsider music legend Washington Phillips (see 2013's The World Is In A Bad Fix Everywhere EP)
Ashworth has finally turned his focus back on his own music & given us Nephew in the Wild, the second official album by Advance Base.
Nephew in the Wild is a nostalgic, melancholic & occasionally harrowing collection of lo-fi indie rock & electronic pop. Electric pianos, drum kits, drum machines, autoharps, Omnichords, Optigans, Mellotrons & the occasional guitar lay the foundation for sweetly sad stories about lonely Midwesterners trying to make sense of their troubled pasts. In the world of Nephew in the Wild, the internet hasn't been invented yet, & a change of address is the only thing a person needs to exit their old life completely. Disappearance, displacement, hell-raising, child-raising, Christmas, Michigan, arson, aging & animals are recurring themes throughout the album.
Nephew in the Wild was recorded by Ashworth in his basement in Oak Park, Illinois, with additional instrumentation by Nicholas Krgovich (No Kids, P:ano, Gigi), Mike Adams (Mike Adams at His Honest Weight, husband&wife), Howard Draper (Tre Orsi, Okkervil River, Shearwater) & Mat Sweet (Boduf Songs), among others. Ashworth's baritone vocals & frank, conversational lyrics sit at the front of the mix throughout nine of Nephew in the Wild's ten songs, while guest vocalist Jody Weinmann takes the lead on the album's only co-write, "My Love for You is Like a Puppy Underfoot".