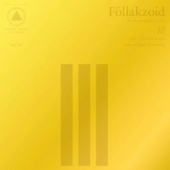 Follakzoid
Iii
Label: Sacred Bones
Genre: Post Rock / Avant Rock
Availability
CD €16.99

Dispatched within 5-10 working days
Föllakzoid began seven years ago as a trance experience between childhood friends Diego, Juan Pablo, and Domingo from Santiago, Chile. Heavily informed by the heritage of the ancient music of the Andes, the band has learned to integrate this influence with contemporary sounds of their times, creating a rich yet minimal atmosphere.
For III, the band wanted to expand their sound while building an atmosphere with mainly monochords and reiteration. After recording and mixing the album on their own at their studio at BYM Records, they partnered with German electronic maestro Atom TM to flesh out the album's synth parts. Most of the sounds he provided were atonal electronic sounds, aiming for concrete frequencies and sampled organic glitches. (The Korg synthesizer Atom TM plays on this record was used by Kraftwerk on a tour during the '80s and given to him by Florian Schneider.)
III is a four-part minimal sound voyage in which you can hear Föllakzoid's musical language developing into something more upbeat, obscure, and sharp, yet even simpler in terms of elements. During the past year, the band played more than 80 gigs, including at Primavera Sound Festival (both Porto and Barcelona), ATP Festival in the UK, Musique Volantes in Lyon, and Lollapalooza Chile. The shows for III, including a confirmed set at Austin Psych Fest in May, should spread the band's fog-enshrouded gospel to an even wider audience.