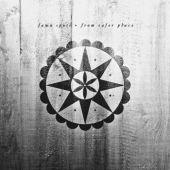 Fawn Spots
From Safer Place
Label: Critical Heights
Genre: Rock / Pop
Availability
CD Digi / Cardboard €15.49

In Stock
From Safer Place is the debut long-player from York-based Fawn Spots, to be released in February 2015 on Critical Heights. Pulsating with a visceral tension, the album calls to mind the cathartic energy of Fugazi and Husker Du with the disparate post punk angularity of Joy Division and Mission of Burma; urgent and raw but keeping to a clear sense of melody.
The albums title captures the bands existential angst and was borne out of the idea that growing older distances oneself from a place of security, propelling oneself into a position of ambivalence. This bittersweet transition simultaneously daunting yet thrilling is revealed musically throughout the album: just as becoming aware of oneself feels as if being thrown into the world, From Safer Place thrusts you headfirst into its roaring surge. Rather aptly, From Safer Place was written and recorded in sheds located in an abandoned Georgian garden, just outside of York; resulting in the album itself working as a literal message from a safer place. Lyrically, main songwriter Jonathan Meager has produced his most challenging, personal and complete work to date, influenced by T. S. Eliot and Jean Paul Sartre amongst others. Jonathan pinpoints Fawn Spots ethos as one borrowed from Guy Debord and The Situationists to live without dead time, to become liberated from the everyday. Fawn Spots formed in 2011, originally a two-piece, aiming to push how much noise two people could make - Fawn Spots started with intensity, but gradually became more focused and mature as artists, losing one drummer but gaining two new members and honing their expression in the process. With Jonathan Meager and Oliver Grabowski on vocals and guitars, and recent addition Paddy Carley on drums, Fawn Spots intention for their debut was to capture the band in its purest form.
Recording and engineering the album themselves gave Fawn Spots the opportunity to capture the bands authenticity, an impression of which is best expressed in New Sense, a blistering evocation for a hidden world never exposed to reveal itself. Fawn Spots debut album provides us with just this: a revelatory experience, a light-bulb moment, an exhilarating disassociation From Safer Place.