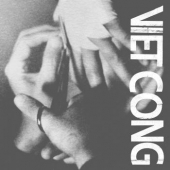 Viet Cong
Viet Cong
Label: Jagjaguwar
Genre: Rock / Pop
Availability
CD Digi / Cardboard €16.99

Dispatched within 5-10 working days
• Recorded in a barn-turned-studio in rural Ontario, the seven songs that make up 'Viet Cong' were born largely on the road, when Matt Flegel and bandmates Mike Wallace (both ex members of the much loved band Women), Scott Munro and Daniel Christiansen embarked on a 50-date tour that stretched virtually every limit imaginable.
• The repetition throughout 'Viet Cong' hypnotizes but also softens, leaving a space that is deceptively personal.
• 'Continental Shelf' orbits a thousand watt hook with a thick crackle and a battering-ram drum line.
• 'Silhouettes' is a tripwire of a song, opening with an almost Joy Division-esque exposition and moving at breakneck speed - frantic and pitch-black at a thousand miles an hour - until, before you know it, they are howling. Actually howling. Maybe you are too.