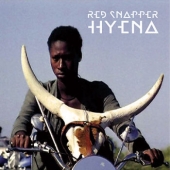 Red Snapper
Hyena
Label: Lo
Genre: Freestyle / Nu Jazz / Funk / Afro
Availability
CD Digi / Cardboard €17.49

Dispatched within 5-10 working days
The first thing that strikes you about the new Red Snapper album is how much the band have raised their game. There's no reason why bands shouldn't get better over time, it's just that a lot of names don't stay hungry and creative.
To start with it's a great idea; an album inspired by the band's recent soundtrack for cult 70s Senegalese road movie "Touki Bouki" - the first independent African film which was recently restored by Martin Scorcese and which is first and foremost an afro-funk odyssey in itself. Red Snapper have toured with the film for a year, playing the soundtrack live to audiences across Europe; themes from the score having been developed and extended to form Hyena. Hitting the studio at the end of this long haul on the road has delivered a super-tight energized performance, reminiscent of a 1970's approach to recording.
And the 70's are all over this soundtrack, combining beautifully with a cutting edge futuristic musicality that sets Red Snapper apart. Hyena is a reflection of Red Snapper's work over the last two decades. They don't just pull it off, they make it sound easy, and that must be the result of touring hard before putting the tracks to tape. This is more than a soundtrack….. Hyena is a timeless, African influenced album which has as much to do with the future as it has the past.