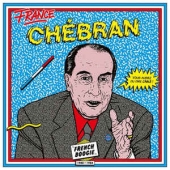 Various Artists
Chebran - French Boogie 1980-1985
Label: Born Bad
Genre: Freestyle / Nu Jazz / Funk / Afro
Availability
LP x2 €22.99

Dispatched within 1-4 working days
"Switched-on is already a bit outdated, you should have said wired-on!" (François Mitterrand interviewed by Yves Mourousi on TF1 channel, in Tell us more, Mister President, April 25th 1985)

This is France in the Mitterrand years: fashions fleet as fast as governments. In the early eighties, the happy-go-lucky gather the nectar of each and every new release. Believing in a bright future for videotex, and loosened up by the sexy talks broadcasted on the budding pirate radios, the new generation dreams of dance floors and holiday clubs. French Boogie, which preserves the spirit of these years of boodle and bunkum, is the ideal soundtrack to their dreams.

What the web now refers to as French Boogie is some synthetic funk reflecting the spirit of those days when nothing was impossible, or so it seemed. Its syncopated flow heralded the dawning of French rap. Often considered as some kind of post-disco, inspired as much by black music as by new wave, this carefree pop music with bawdy lyrics indulged in simple pleasures: holidays, swank and sun were recurrent themes. Totally in tune with its time, it incidentally glorified luxury, success, and a certain consumerism embodied, for instance, in Bernard Tapie.