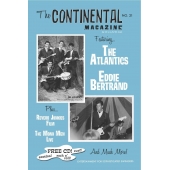 Continental
Continental #21
Label: Continental Magazine
Genre: Rock / Pop
Availability
MAGAZINE + CD €4.99

In Stock
Issue #21 is our biggest issue yet! It includes a huge feature interview with The Atlantics (conducted by Ivan Pongracic) - in fact, it's so big we could only include the early years in this issue. Part 2 is set to follow in issue #22. The magazine also has a Q & A format interview with legendary surf guitarist Eddie Bertrand, conducted by the members of the Surf Guitar 101 message board (and edited by Ivan Pongracic). Tiki Tena also contributed a great interview with Steve Seagren who put together the excellent Reverb Junkies Film. To top it off we review all of the latest Man Or Astro-Man? releases, and have a review of a recent Mono Men reunion show, plus tons of music and DVD reviews. You also get a 21 track CD filled with lots of great surf, instro and garage rock tunes. 44 pages in all, with a 2 color glossy cover.
Six Waves Under - Bang Mustang
Beluga Sunrise - The Space Rangers
Duelo al Sol - Durango 14
I Am The Werewolf - The Mag Seven
Corridor X - Kill, Baby...Kill!
Showdown At The Tumbleweed Inn - The Surfaders
Point Zero - West Samoa Surfer League
Tennessee Deadshot - The Twang-O-Matics
Tsunami Escape Route - 9th Wave
Jedd's Gold Sled - The Crazy Aces
Wailin' Wolf - The Monster Stalkers
That's Right - Pirato Ketchup
Backwash - North Of Malibu
DelMarVa - The Insect Surfers
Devil's Dragstrip - The Mighty Landshark!