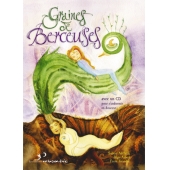 Various Artists
Graines De Berceuses
Label: Prikosnovenie
Genre: Dark / Post Punk / Gothic / Neo-Folk
Availability
CD BOOK €17.99

Dispatched within 5-10 working days
Book+CD 36 pages - CD 14 tracks + 14 illustrations + One long story + 2 tracks for children
New! 1 track with the story read ! :
The adventure of the book-cd 'Lullabies' continues! This time one long story replaces the short stories. New ! On the CD discover two tracks special for children with the story read in French (20 minutes long) and a special song about 'Feuille'(Leaf) the heroine of the adventure.
A journey into the heart of 'Mother Earth' :

The main character, a girl named 'Leaf', share an adventurous quest for underground in the heart of the magic mountain. She will discover a fantastic world and creatures which will hep her to reach her goal: to heal the mountain !
To overcome his fear :
Many weird and wonderful creatures populate this underground world, 'Leaf' will need courage to meet them especially the impressive ones ... But most of them appear very friendly!
For the whole family :
Children will love the story imagined by Régis Aubert, the colorful characters, the story read music (in French).
Older ones will relax listening to the sampler traveling through the colors and visual art of Sabine Adelaide.
Close your eyes and listen ... :
Discover a relaxing atmosphere filled with magical sounds: harp, flutes, sansulas, violins, Zaphir chimes...
As each volume of the collection "Lullabies" we bring a special care to the choice of music (14 tracks).
Frédéric Chaplain asked the artists of the label (French and international) to compose tracks for the adventure. He also mixed the song composed by Arfang (Arnö of Mandalia-music) with our 'intuitive' musical instruments.
Taking care of Nature :
The quest to save the Magic Mountain is an invitation to take care of our environment through multiple incarnations of magical creatures. A theme that will please parents and children