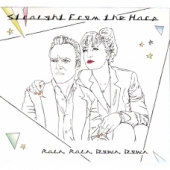 Straight From The Harp
Rain Rain Down Down
Label: Auditorium
Genre: Electro / Electro-Rock
Availability
CD Digi / Cardboard €9.99

In Stock
Straight From The Harp is a Danish band living and working in Berlin, Germany.

Danish Indie Label Auditorium released the band's self produced debut album 'Rain Rain Down Down'. To the band's knowledge 'Rain Rain Down Down' is the only album in the world merely consisting of electronic beats, blues harp and vocals.

Since the band's formation in 2008 they have played numerous shows in Germany, Denmark and France, and they are determined to conquer more nations and more hearts in the years to come.

Their sound is extremely cinematic and their entire musical universe is build upon visual elements from a magical neverland of sandstorms and stardust.