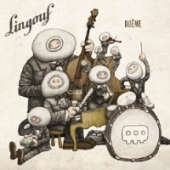 Lingouf
Doeme
Label: Ant Zen
Genre: Electronica / Ambient / Experimental
Availability
CD €14.49

Dispatched within 5-10 working days
inspired by venetian snares' breakcore/classical crossover 'rossz csillag alatt született' and french hardcore & dark ambient artist ybrid's project 'requiem ex machina', lingouf's ambition for this release was to combine electronics with the sound of orchestral instruments. the violin of jacinto munoz, pierre mainier's trumpet assignment, the voice of marion vayssière, radio samples and citations from stéphane mallarmé's erotic writings were the catalyst used to make the combination of natural and synthetic elements blend together perfectly.
the album demonstrates a perfect juxtaposition of contemporary electronics and chamber orchestral sounds. multilayered strings fittingly strike the air, underlaid with a multiplicity of straight and broken beats, meticulously shaped together so the roughness of the rhythmic work never sacrifices the visceral impact of the intoxicating melodies. the more genre-typical chase-sequence feel of breakcore is given its own shape and form with touches here and there to give it a distinctively european feel - just like the quintette du hot club de france turned u.s. swing into something unmistakably continental.
carlos castaneda's book 'the art of dreaming' which describes the steps needed to master control and consciousness of dreams inspired lingouf to write the title track of this breathtakingly unique album. doème's visceral complexity possesses the nerves that cast shadows into the mind, never dissipating throughout the hours both sleeping and waking - be invited to tread aural virgin soil.