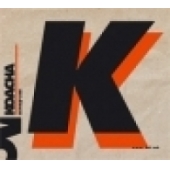 Koacha
Mr. Down
Label: Infrastition
Genre: Rock / Pop
Availability
CD Digi / Cardboard €6.99 Nice Price

In Stock
005 : Opening for Franz Ferdinand, and more concerts in France. Release of the single "Revolution" and of an album few months later. On stage at the regional selections of Le Printemps de Bourges (national selected).
2006 : Koacha plays at Le Printemps de Bourges, a first national recognition when is release the self produced album " The female of the species is more deadly than the male " The band sign with a Spanish label, they headline the Purple week-end festival and make two Spanish tours, incuding a date at the Primavera sound festival and national tv broadcasts.
2011 : release of the Mr. Down album, produced by Neil Conti (Bowie, Lennox).