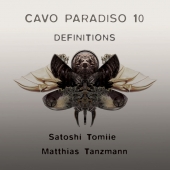 Various Artists
Tomiie Satoshi & Tanzmann Matthias Pres. Cavo Paradiso 10 - Definitions
Label: Klik
Genre: Techno / Tech-House / House / Trance
Availability
CD x2 Digi / Cardboard €19.99

In Stock
THERE IS A LOT TO BE SAID ABOUT A CLUB THAT JOURNEYS INTO A 3RD DECADE OF OPERATION. AFTER ALL,THERE ARE ONLY A HANDFUL OF THOSE AROUND THE WORLD.

ENTER CAVO PARADISO,A CLUB BUILT IN PROBABLY THE MOST IMPRESSIVE LOCATION ONE CAN FIND. A SUMMER CLUB WITH AN ARMY OF INTERNATIONAL FANS WHO RELIGIOUSLY VISIT THE ISLAND OF MYKONOS YEAR AFTER YEAR, IN ORDER TO EXPERIENCE THE BEST THAT DANCE MUSIC HAS TO OFFER.

WITH THAT IN MIND ,IT'S NOT SURPRISING THAT WHEN IT COMES DOWN TO THE CLUB'S CD COMPILATIONS,THEY ARE AS SERIOUS AS A HEART ATTACK.

LAST YEAR WAS THE FIRST YEAR TO OFFER A NEW CONCEPT IN THE COMPILATION SERIES, INVITING SOME OF THE MOST EXCITING ARTISTS AROUND TO MIX THE FRESHEST QUALITY HOUSE MUSIC THERE IS.

AFTER RAVE REVIEWS INCLUDING A "COMPILATION OF THE MONTH" ACCOLADE IN MAY 2009 MIXMAG ,THE PROJECT (MIXED BY ARGY & LUCA BACCHETTI) WAS A GREAT OVERALL SUCCESS AND HAS RAISED THE BAR OF STANDARD EVEN HIGHER FOR THE COMING YEAR.

SATOSHI TOMIIE AND MATTHIAS TANZMANN NEED NO INTRODUCTION TO THE MASSES AND HAVING THEM ON BOARD FOR THIS YEAR'S COMPILATION HIGHLIGHTS THE MATURITY OF A CLUB STRIVING FOR QUALITY.
BOTH ARTISTS HAVE AN IMPRESSIVE CAREER BEHIND THEM AND THEY HAVE DELIVERED 2 MIXES WITH GREAT PRECISION AND BAGS OF UNDERGROUND QUALITY HOUSE MUSIC.

FREERANGE,LIEBE DETAIL,DESOLAT,OSLO,MOON HARBOUR AND ROBSOUL ARE SOME OF THE LABELS INCLUDED ON THE TRACKLIST PLUS ARTISTS LIKE MARTIN BUTTRICH,MATTHIAS MAYER AND LUNAR CITY EXPRESS AMONGST OTHERS CONTRIBUTE ON MAKING THIS YEAR'S CD THE MOST ANTICIPATED SINCE CAVO PARADISO LAUNCHED IT'S COMPILATION SERIES 10 YEARS AGO.
CD 1 – Satoshi Tomiie

1. Stimming, Ben Watt & Julia Biel - Bright Star (Sunset Mix) - Buzzin' Fly Records
2. Opus Ink – Darkroomboot - Saw Recordings
3. Mes - Back To Basics - (Andre Lodemann Remix) - Saw Recordings
4. Entlet – Underground Fire Still Burning - Perspectiv Records
5. Feygin - B Local - Kiara Records
6. Philipp – Federation - Freerange Records
7. Nikola Gala - The Phunk - Rekids
8. Giuseppe Cennamo – Bolivian - (DJ Wild El Camino Remix) - Monique Spéciale
9. Dani Casarano & Felipe Valenzuela – Tony-Sonny - Mekisma Label
10. Matthias Meyer – Infinity - Liebe Detail
11. Doomwork – Aplauso al Ocaso – (Dub mix) - Starlight
12. Mabaan Soul – Yo - Saw Recordings
13. Lee Van Dowski - Die Eisenbahn - Voltage Musique Records


CD 2 – Matthias Tanzmann

1. Martin Buttrich - I Am Going There One Day - Desolat
2. Sven Tasnadi & Juno6 - Poundcake - Cargo Edition
3. Christian Burkhardt - Fairy Floss - Oslo
4. Chris Carrier - Cabaret Des Belles Lettres - Robsoul
5. Steven Cock - Dry And Deep - Vee
6. Luna City Express - Diamonds & Pearls (Mathias Kaden's Smarad Remix) –
-Moon Harbour
7. Johnny D - Rashaida - Oslo
8. Michael Melchner - Four To The Floor (Matthias Tanzmann Remix) - Cargo Edition
9. Oleg Poliakov - Caravan - Bass Culture
10. Luca Bacchetti - The Endless Summer - Hideout
11. Luna City Express - Mr. Jack (Robag's Edna Mompf Remix) - Moon Harbour
12. Chris Wood & Meat - Back Down Dub - Murmur
13. Catz 'n Dogz & Pol On - You Like - Mothership / Channel Prod