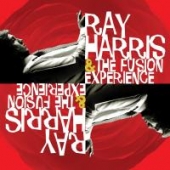 Harris Ray And The Fusion Experience
Ray Harris And The Fusion Experience
Label: Record Kicks
Genre: Freestyle / Nu Jazz / Funk / Afro
Availability
CD €15.99

Dispatched within 5-10 working days
Raymond Harris is a talented keyboardist from Glasgow who successfully manages to blend
dancefloor jazz with latin vibes, a touch of funk & soul, and Brazilian sounds coming directly from
the 60's and 70's. It did not take long for this musician to create a dedicated fan base and gain
recognition as one of the most innovative music writers and performers today. Along with The
Fusion Experience band Ray Harris has already undergone a lengthy tour of South-East Asia,
won the 'Brewer Dolphin' newcomer award, and opened for the late godfather of soul James
Brown. After being released exclusively in Japan through the prestigious P-Vine label in 2009, his self-titled debut 'Ray Harris & The Fusion Experience' finally sees the light of day worldwide, with an added two scorching hot remixes by Lack Of Afro as well as extra tracks recorded espressly. This full-length goes from the hypnotic 'In your eyes', to the jazz-dance classic 'Scaramunga', (available here with two additional alternative versions), to the mellow 'Tokyo Blue', up to the two afore-mentioned remixes by in-demand producer Lack Of Afro. Having already secured radio support by DJs such as Mark Lamarr (God's Jukebox on BBC 2), Russ Dwubury and Craig Charles (Craig Charles Funk & Soul Show on BBC 6), Ray Harris & The Fusion Experience are set to ignite the jazz scene with this musical endeavor, confirming once again, were there to still be the need, the healthy state of the contemporary jazz-dance scene.